9/03/21
Ponencia en la jornada "Women with Face to Face" https://www.youtube.com/watch?v=mXMsOJAwmCU




02/03/21
Ganadoras del concurso "Ejes verdes" dentro del plan "Superilles Barcelona" con nuestro proyecto "Caminar des del centre" para redactar un nuevo "Modelo de Espacio Público de Ejes Verdes" y reurbanizar la calle Consell de Cent.

https://www.lavanguardia.com/local/barcelona/20210303/6262961/supermanzana-eixample-equipos-ganadores-asfalto-plataforma-unica.html




23/02/21
Incluidas en AD como Mejores Diseñadores nacionales
Best of España in AD





14/12/20
Jury in The MPhil in Architecture and Urban Design (Projective Cities) AA Architectural Association





27/11/2020
Finalistas del Simon Architecture 2020 con el corto"The Lost Mod" sobre "Casa Cruce"https://simonprize.org/work2020/casa-cruce/




23/11/20
Participación en el debate "El genero y el diseño" FAD Forum



18/11/20
Conferencia "El Hogar Reversible" en ETSALS La Salle Barcelona



1/06/20
Seleccionado FAD Interiorismo 2020 con la obra "Casa Cruce" http://arquinfad.org/premisfad/es/ediciones-anteriores/?edicio/2020/obra/11186/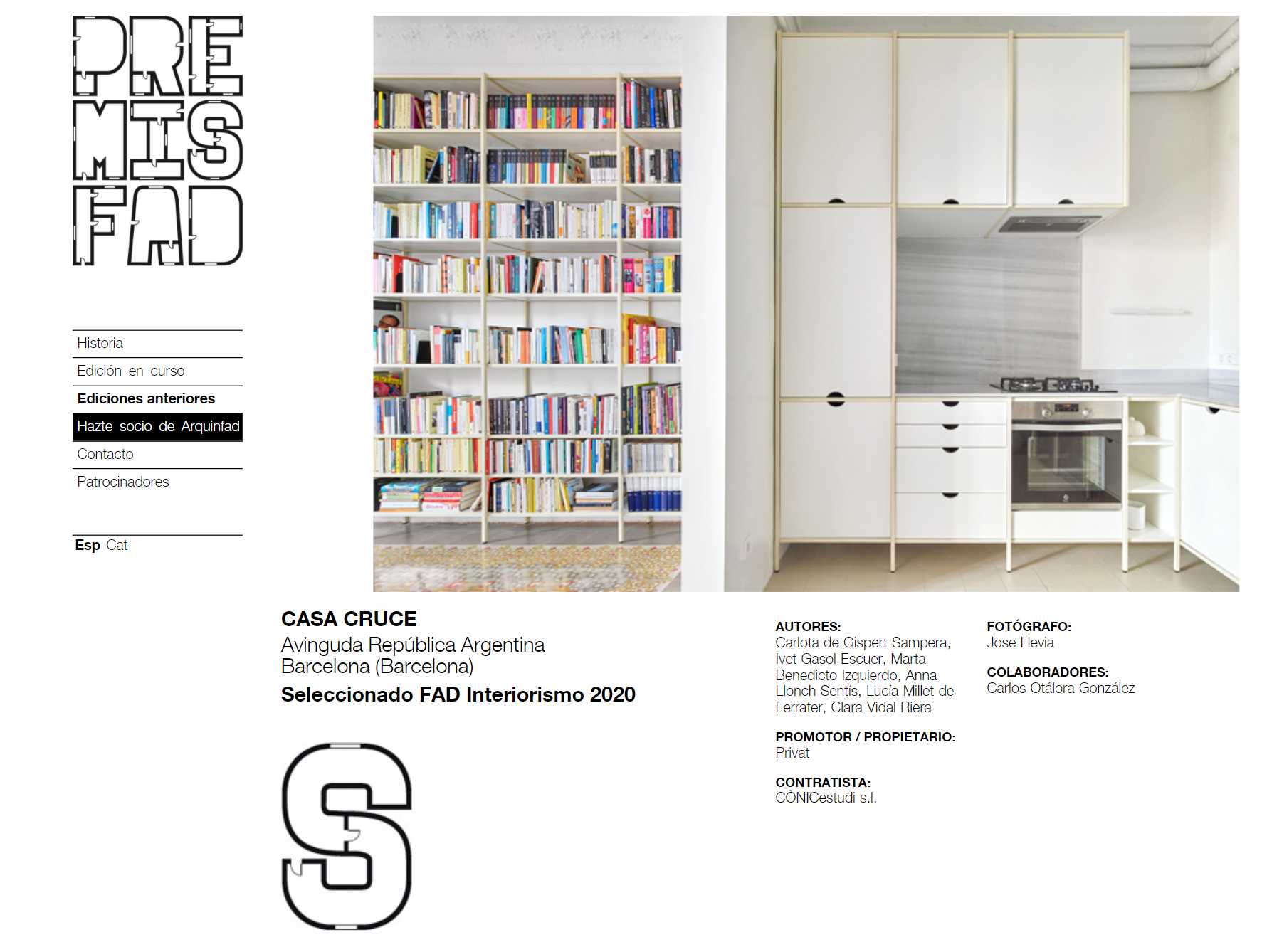 1/06/20
Publicación en Arquitectura y Diseño magazine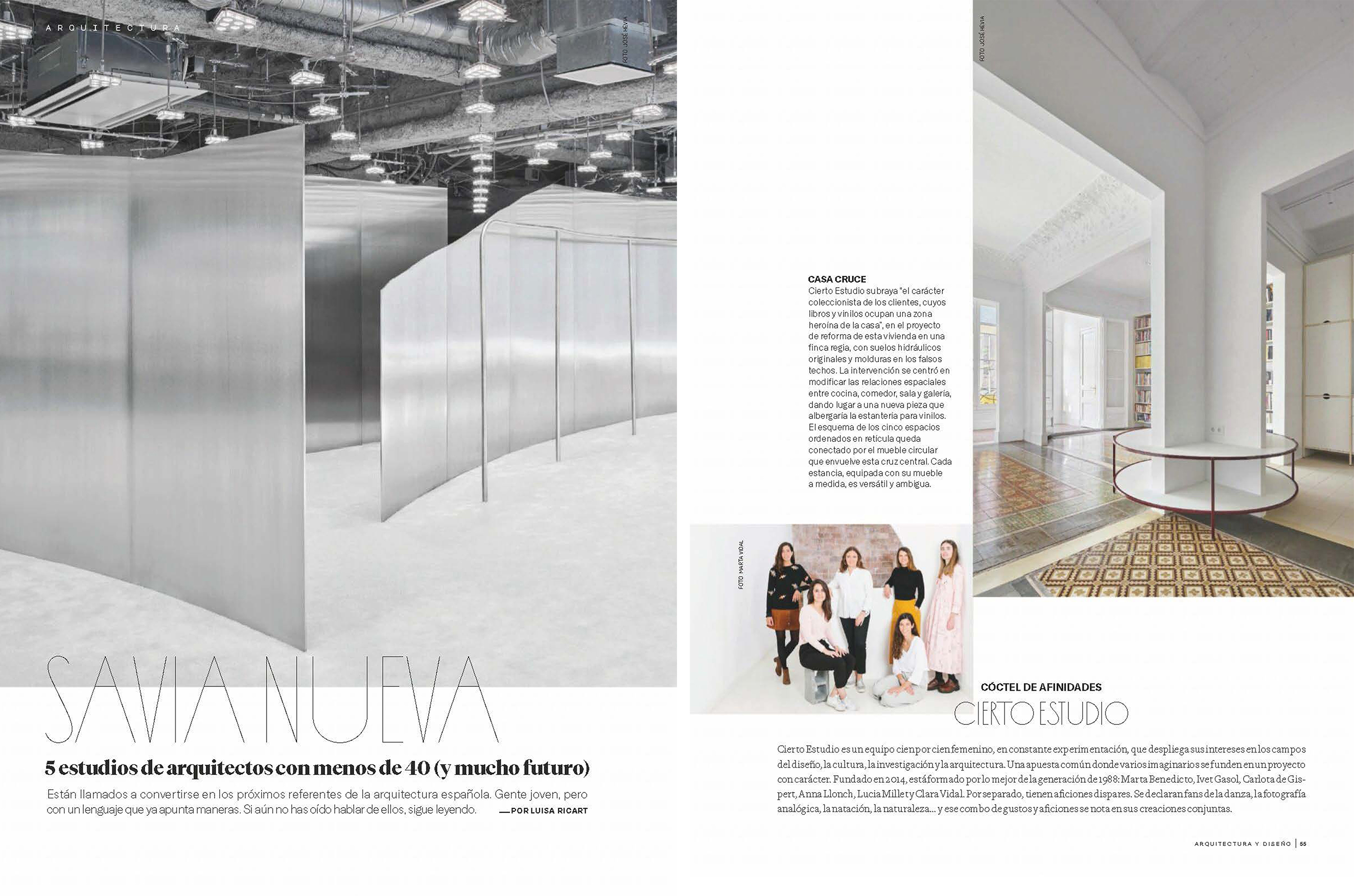 10-11-12 /06/2020
Workshop "Ciudad Contexto"





16/04/20
Online lecture "C de confinament"
https://www.youtube.com/watch?v=aHrSqcxfTXQ&feature=emb_err_woyt








16/03/20
Invited to TUGraz Architecture Lectures-GAL 2020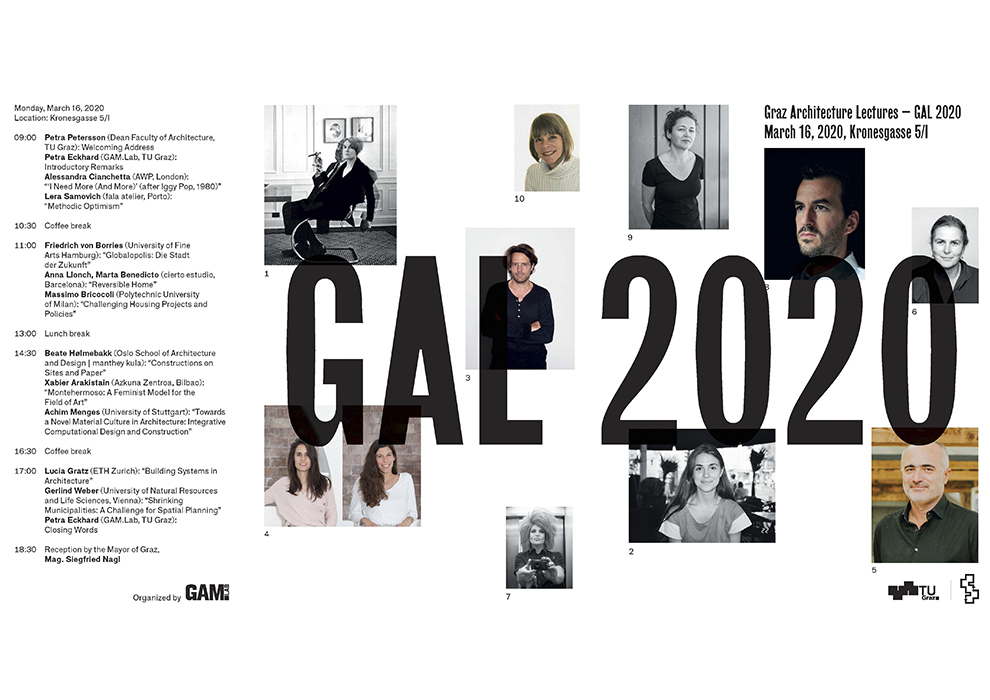 11/03/20
"Panorama" lecture in ETSAB "Habitatge i ciutat" together with Flexo and Un Parell d'Arquitectes.





2/03/20
Happy to announce we are visiting professors in TUGraz the summer term's
Design Studio in Institut für Gebäudelehre together with professor Andreas Lechner.




20/01/20
Exposición "Lo Doméstico" en ETSAB por Silvia G. Camps




1/11/19
Cierto Estudio published in num.167 paper edition of Neo2 Magazine




23/07/2019
First Prize for the construction of 60 dwellings in Masnou





8/04/19
Celebrating Women's Day with the contemporary art and design exhibition Sisters in OX Galery Poblenou together with Alejandra Perini, Berta Julià Sala, Carla Cascales Alimbau, Irene Infantes, Marta Armengol, Marta Ayala Herrera, Marta Cascales Alimbau, Omayra Maymó, Paula Clavería, Sanna Völker.


15/10/2018



New office in Poblenou!!



30/09/2018
Más que contentas de anunciar que se ha aprobado el Plan de Mejora Urbana para el edificio de viviendas en Plaza de las Glorias de Barcelona en colaboración con Franc Llonch.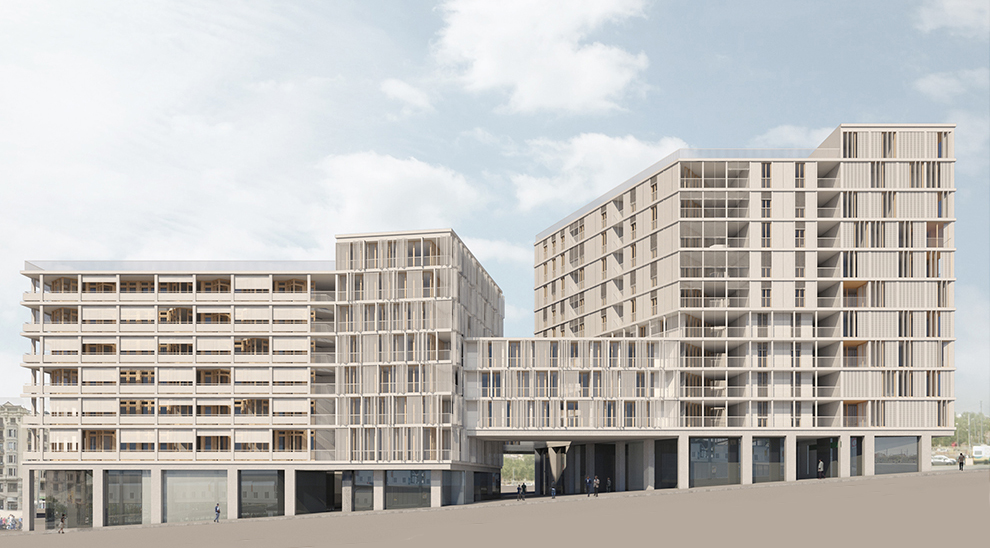 25/07/2018
Aquí podréis leer nuestro último artículo en Neo2 sobre Marta Armengol.
https://www.neo2.com/marta-armengol/
5/07/2018
Nuestro artículo sobre el estudio de arquitectura AMOO en Neo2 ya está publicado
https://www.neo2.com/amoo-arquitectura/
4/05/2018
Ya está publicado nuestro artículo sobre el diseñador Cristian Herrera en Neo2.
https://www.neo2.com/cristian-herrera-dalmau/
27/04/2018
Nuestro primer artículo para la revista Neo2: Adrià Escolano y David Steegmann, a table II.
https://www.neo2.com/adria-escolano-david-steegmann-table-ii/
3/05/2017
Hemos ganado el Primer Premio para la construcción de un edificio de vivienda social en "Illa Glòries" en Barcelona y la redacción del Plan Especial de Mejora Urbana (PEMU)
https://ajuntament.barcelona.cat/premsa/2017/05/03/un-disseny-que-reinterpreta-leixample-de-cerda-guanya-el-concurs-darquitectura-per-edificar-280-habitatges-de-lloguer-public-a-lilla-glories/


6/10/2016
Nuestro proyecto "El hogar reversible" ha sido premiado como mejor obra no construida por los Premios Ajac X 2016.


16/06/2016
Participación en el ciclo de conferencias "Absolutamente Moder(rr)nos" junto a Peris+Toral arquitectes y TAKK
en Espai Picasso, COAChttps://www.arquitectes.cat/es/content/absolutamente-moderrrnos-cierto-estudio-peristoralarquitectes-takk



18/04/2016
Totems are on sale!




01/10/2015
Hey! New Studio in c.Tres Senyores 40, Barcelona
Work in process





10/03/2015
Lecture about industrialization in architecture together with Anna i Eugeni Bach in ETSALS, LaSalle Barcelona




3/03/2015
El Ciclo Habitacional:Special Mention at Innovation on the housing design competition https://www.youtube.com/watch?v=WzwNodgsJzY



26/11/2014 El Ciclo Habitacional in the Collective exhibition for the results of the competition "Bienvenido a casa" COAM (Madrid)